230V to 24VDC dimmable transformers for installation
They are used in installations, where there is a need for 24VDC. The transformers are designed primarily for LED conversions, as well as for creating new LED installations. They allow you to dim the light far down without it becoming unstable / flickering.

Please contact our support if you have a light setup you want to dim, so we can provide you with support.
The transformer must NOT be combined with 24Vdc dimmers.
If in doubt, contact support, we are happy to answer your questions.
---
They are great for 24VDC stripe lights, which need to be controlled by 230V system.
---
Related
Cable with a 230V plug that can be used for connecting lamp sockets or power supplies.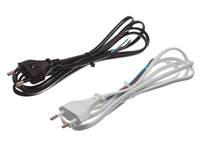 White or black cable with a premounted 230V plug anda toggle breaker. The cable is 1.5 metres long and can be used for lamps.