K5495
Dimmers for 230V
Dimmers for 230V which you can be used for dimming your LED bulbs and other 230V light products.
Note that 230V dimmers might work in many different ways, and we can not guarantee that a dimmer will work with a given bulb.
Contact us if you want us to test it before buying it. We do it free of charge, and we advise you to do so before finalizing your purchase.

A smart digital dimmer that can be mounted on rail. A higher output is easily achieved by connecting more extension modules.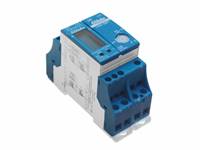 DIODIM LED dimmer to wire 5-25W. Available in white and black