K5410
In-ground spot
In-ground spots for 230 ~ 12V or for Solar cells. With built-in LED emitters or GU10 bulbs. Professional quality - for usage in the garden, interior instalation or driveway areas, etc.
Waterproof LED Ground spot lights can be used indoor and outdoor. The spots can be mounted in all surfaces, for example driveway areas, courtyards or garden paths.
Products in the category
Lamp for in-ground mounting of high quality, designed for GU10 bulbs. Stainless steel and thick front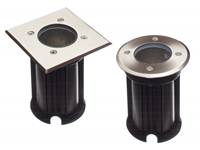 Junction box with 2, 3 or 4 cable units. There are seals on all openings, making it IP68 (max. 4 metres depth).