K10393
Mikrus track-light for 12V
Mikrus system is a smart small 12V track light, that is easy to setup and very flexible. Many different lightsources.

Mikrus light skinne systems are a obvious chose for lighting in showcases, glass cabinets, store windows and where else it might be difficult to mount the typically larger tracklights.
The profiles are set up with clips and joints, while the lightsources are easily twisted and locked in to the profiles. Mikrus is perfect for ever changing stores, and of course also stores with fixed setups.
Spot lamp with built in 1.5W LED light source, that is equivalent to 10W halogen. 3 color temperatures.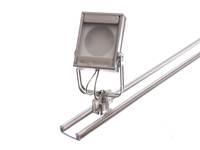 Simple and nice turnable LED lamp for Mikrus S tracks. The 3 bright LEDs are equivalent to 10W. 2700K, 3000K, 4000K.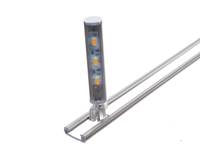 Nice transparent profile for Mikrus S 12V track light. Easy to cut with small saw. Available in 500, 1000 and 2000mm.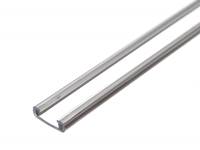 Cable with solid copper core, that can be used in the Mikrus connectors, that require such a cable. 3 colors.