K5484
Do it yourself Rails/profiles for LED Strips
A large selection of rails/profiles that you can mount the LED strips in. A large selection of accessories for mounting and for giving any project a nice finish.
Pictures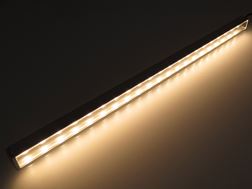 The rails can be mounted indoor anywhere - on the walls, the ceiling and on the floor. You can screw the profiles as fixed, or you can use our mounting-bracket. All types of SMD tape fits in, in all colours and RGB Ribbon. This applies to both unprotected SMD-tape, as well as splash-proof LED Flexistrips. Max width of tape end must be 13 mm.
We have a larger selection than you can see here, and we also offer the assembling of the entire rails including SMD tape, as well as producing shines in specific lengths in many numbers to competitive prices. Contact us for more info.
You can choose between the following rail systems at the moment: