K5322
BA9s bayonet lampholders
LED position lights for BA9s bayonet lampholders
Note: Switching from normal incandescent bulbs to LED bulbs, the power consumption becomes lower than normal and therefore it might be experienced error messages on newer trucks with Bulb-control. One can therefore be forced to use "cheat-resistors", which can be found on this page.
Products in the category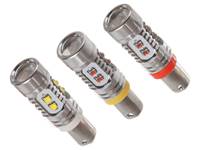 Extra strong BA9 LED position lights with 5 pcs. 3-Chip SMD diodes.
Cheat Resistors to cheat the trucks bulb-control / check