K8186
PCBs for soldering
Loose PCBs in various models, for your electronics projects and prototypes. Can be used for eg. mounting your LEDs in a pattern.
Products in the category
Double-sided PCBs, where you can solder on the both sides. It is very useful if you need components on both sides.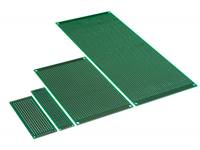 Screw terminals for through hole mounting in PCBs. 5mm pitch, 0.6mm pins. Available with 2 and 3 positions, that can be connected.