K6811
LED Drivers for 5W LEDs
Drivers with a constant current output of 1050mA, that fit for 5W LEDs.
Products in the category

A constant-current RGB controller or dimming-controller that is controlled by the wireless T1, T3 or T3M remotes. For 1W, 3W and 5W LEDs.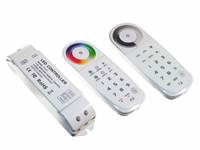 An advanced dimming-system to set the brightness on 12V and 24V LED products, such as the LED stripes.