K5483
Powerful High Power LEDs for lighting
High Power LEDs are very powerful LEDs, designed to light as much as possible for the least amount of power.
The High Power LEDs are very easy to use, since you just need to connect a suitable LED driver that allows the diode to the correct voltage and current. You can also choose to put a lens on, to focus the light in a specific scattering angle.
The High Power LEDs can be used for any project. For example, to the aquarium or terrarium lighting, special LED lamps or lamps, own-designed LED fixtures etc. We use these internally for various LED projects, such as our Sublight underwater lights.
High Power LEDs require a constant current, and not a constant voltage as used in our 12V LEDs. To make the constant current you have to use a constant current source / supply.
You can connect LEDs in series as shown below, which will send the same constant current through them - if you connect them in parallel the curent will be split, and they will light up less.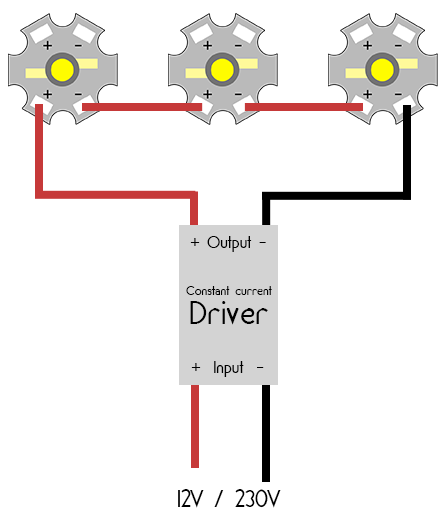 Lumen is the amount of light a emitter produces, and is thus the most used number when talking about light. When you want to replace a incandescent with a LED bulb it is very practical to calculate the amount of lumen you need. Typically you only have the wattage, and now how many lumens it lights.
The effectivity of a emitter measures how many lumens it creates compared to how much power is uses - lumens per watt.
An example for a 25W incandescent with 15 lumen / watt creates so many lumens:
Lumen = 25W x 15 Lumen / Watt = 375 Lumen
This means if you want to replace this bulb, you would need a LED bulb that creates about 375 lumens.
| | |
| --- | --- |
| Lyskilde type | Lumen per watt |
| Incandescent light bulb | 12.5-17.5 lm/W |
| Halogen | 16-24 lm/W |
| Fluorescent | 45-75 lm/W |
| LED | 30-90 lm/W |
| Metal halide | 75-100 lm/W |
| High pressure sodium | 85-150 lm/W |
| Low pressure sodium | 100-200 lm/W |
| Mercury vapor lamp | 35-65 lm/W |
Subcategories
Products in the category