K14004
Linear guides
Linear guides are parts used for controlling linear motion, eg. on a 3D printer or CNC. Here you find axles, bases and sliders for making guides.
The linear guides are only intended for guiding the motion, while you need a belt or lead screw to make the motion itself.
Strong and precise 8mm axle in stainless steel, intended for linear guides, together with base and sled / slider. 300 and 500mm.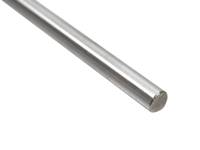 Horizontal or vertical base for axles. The base is fastened on the surface, and the axle is placed through the base and fastened.