K11097
Fuses and fuseholders
Fuses and fuseholders meant to avoid damage on wires and other electronics from errors and short circuits.
Standard ATO blade fuses, that are typically used in cars and trucks. Available from 4A to 30A.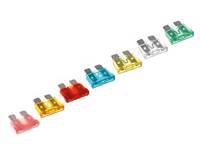 Glass fuse with dimensions Ø5 x 20mm that are used many places. Available with different rated amperes.