K10169
LED lamps for forklift and lifters
Forklift use different voltages, which set certain demands for the lamps that are mounted on them. We have a large selection of lamps that can be used from 10V to 110V.
Forklist use large battery-packs, depending on model, with the voltages 12V, 24V, 36V, 48V, 72V, 80V and 96V. When you connect LED lamps you need to be certain that they can handle this voltages. The below products have been specifically designed for forklifts, with a large voltage range.
Products in the category
A bright LED lamp with a bright blue spot-light that is available in 3 models, dot, line and arrow, which gives a clear mark on the floor by the forklift truck.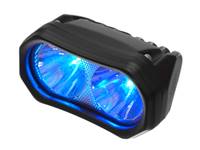 A compact LED beacon for mounting on a flat surface. A solid housing with a polycarbonate glass. Yellow, red, green or blue.