K5227
Xenon white position lights to Xenon Kits
Xenon White light positions that match your obese Xenon-lamps
Note: Switches to his regular position lights bulbs with LED bulbs will power consumption become lower than normal and there may therefore be experienced error messages on newer cars with Bulb-control. One can therefore be forced to use "cheat resistors" which can be found on this page.
Products in the category
W3W W5W parking light with 10 mm diode. A built-in 12V-24V regulator with protection for such as a high charge voltage.
H6W BAx9s/parking light with 4 heavy-duty diodes. A built-in power regulator protects from too high charging voltage.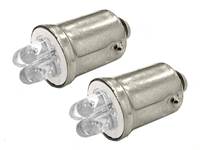 A smart way to remove errors when switching to LED position lights or to diode rear lights.